Please note: This summary is provided to help you understand the regulations. Consult the references provided for links to the full text of the regulations.
---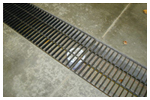 Floor Drains
A floor drain system commonly includes a concrete trench, which runs down the center of a shop floor that may lead to underground pipes and/or tanks. Instead of a trench, some shops have single or multiple rectangular or round floor drains. Typically, the shops floor is slightly sloped to allow liquids to flow into the floor drain.
Floor drains, especially those built when designers and contractors were much less environmentally conscious than they are now, can be full of surprises. If you do not know what is happening at the other end of yours, you would be well advised to find out before an inspector does.
This section will help you determine if the floor drains in your facility are properly connected and properly used.
---
Who is covered by the regulations?
Any facility with floor drains.
What is the purpose of the regulations?
Floor drains in many industrial facilities have been found to empty into surface waters, or into septic fields. In either case, the discharge of wastewater from the shop floor into this kind of system is almost certainly illegal. If the floor drain discharges into a city sewer system, it will need a permit, and will need to be periodically monitored. Floor drains can also leak, and have been known to cause serious and costly soil and groundwater contamination problems.
Many types of businesses use floor drains as an easy way to collect wastewater, oil, drips, spills, etc. What many business owners don't realize is that putting wastes down floor drains may violate several federal, state and local laws and ordinances.
If your floor drain is connected to a sanitary sewer (Publically Owned Treatment Works, or POTW) you must obtain a permit from your local sewer district and meet their discharge limits. Additionally, you must meet the general pretreatment requirements (40 CFR 403.5) that prohibit the discharge of:
Pollutants such as solvents with a flashpoint of less than 140°F.
Pollutants which will cause corrosive structural damage to the POTW, but in no case discharges with pH lower than 5.0.
Solid or viscous pollutants in amounts which will cause obstruction to the flow in the sanitary sewer system.
Any pollutant released in at a flow rate and/or pollutant concentration which will cause interference with the POTW.
Heat in amounts which will inhibit biological activity in the POTW.
Petroleum oil, nonbiodegradable cutting oil, or products of mineral oil origin in amounts that will cause interference or pass through the POTW.
Pollutants which result in the presence of toxic gases, vapors, or fumes within the POTW in a quantity that may cause acute worker health and safety problems.
Any trucked or hauled pollutants
If your floor drain is connected to a storm sewer, ditch, or discharges to a stream or other waterbody or directly to the ground, you must have a National Pollutant Elimination System (NPDES) permit issued from your state environmental agency or EPA. If you obtain this type of permit, you will be required to meet discharge standards that are usually much more stringent than POTW limits and that require installation of a treatment system. You will also need to demonstrate that you are in compliance by frequently collecting samples of your wastewater and having them analyzed at a laboratory. You will also have significant reporting and recordkeeping responsibilities. For more information see: NPDES.
If your floor drain is connected to a septic system and you perform vehicle maintenance, you need to cease the discharge. Septic tank systems, wells, drain fields, cesspools and similar disposal sites are regulated by federal and state rules for motor vehicle waste disposal wells. New motor vehicle waste disposal wells were banned nationwide as of 2000. Some states may waive the ban and allow you to continue using the well if you apply for and receive a permit. If you are granted a waiver, which is unlikely, you must follow the procedures outlined in your permit. For more information see: Motor Vehicle Waste Disposal Wells.
If your floor drain is sealed or plugged and does not discharge at all, then you must determine if the accumulated waste is hazardous and if it is, to manage, transport and dispose of the hazardous waste following state and federal rules. For more information, see the TERC Hazardous Waste Determination and Hazardous Waste Management sections.
Keep in mind that a floor drain is a red flag for any inspector from an environmental protection agency. Their concerns are primarily:
What types of materials could potentially enter the floor drain system?
What ultimately happens to those materials?
It is very important to know where all your floor drains lead, and are aware of federal, state and local regulations that apply to your discharge activities. If you do not know where your drains lead, or if you using floor drains improperly, you could be contaminating nearby surface waters or drinking waters.
Consider permanently sealing your floor drain and changing your current disposal practices. This can be accomplished by filling it in with concrete.
If you permanently seal off a floor drain, create a record of past uses for the drain, the date when the drain was sealed, and describe the physical location of the drain before it was sealed. Keep records of flow into any drains that are connected to a sanitary sewer to demonstrate that you have met discharge permit requirements. Accurate information about the history of your drains may be important if the property is offered for sale, and it could be useful in reducing liability in the case of an investigation of contaminated soil or ground water.
The following best management practices (BMPs) are recommended for floor drains.
Check all of your floor drains and make sure you know where they drain.
Cap or plug floor drains that are not serving a useful and lawful purpose.
Use drip pans or similar devices to collect vehicle fluids before they reach the floor drain system.
Do not put fluids like oil, solvents, paints or chemicals into a floor drain.
Install berms in the shop around areas where chemicals are stored to prevent their entry into the floor drain system.
Install screens in drains to prevent solids from entering the floor drain system.
Chemical storage areas near floor drains should be surrounded by secondary containment, such as berms or dikes, to prevent accidental spills from reaching the floor drain.
Develop and implement a maintenance schedule for inspecting and cleaning the floor drain system.
Prepare and train for emergencies. Have a plan in place to quickly cleanup a spill before it escapes.
Keep floors as clean as possible. Use dry cleaning methods such as sweeping instead of water cleanup, whenever possible.
Don't hose down your work area. This practice generates large quantities of contaminated wash water.
Consider sealing your shop floor with epoxy or other suitable sealant.

Best Management Practices for Floor Drains - Prepared by New Hampshire Department of Environmental Services.