Compliance Summary

Compliance Summary Tool

Transportation Modes

Service Functions

Regulations

All Topics

Please note: This site was developed to help you understand the regulations. Consult the references provided for links to the full text of the regulations.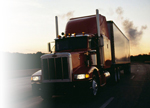 TERC is intended to help you find information on the environmental regulations that affect the transportation sector. The site includes overviews of the regulations, tips on how to comply, best practice solutions that can help the environment while saving you money, and links to other useful resources.
Not sure where to start? Try one of the Compliance Summary Tools (top of the left hand menu bar) for customized compliance assistance reports based on your specific location and type of operation. Or select a category of interest from the left hand menu bar:
by Transportation Mode, for information relating specifically to transport by Road, Rail, Water, or Air, or select Intermodal for topics involving two or more modes

by Service Functions for topics common to all modes

by Regulations for topics specific to air, water or other environmental categories
You may also select All Topics at the bottom of the left hand menu for a sortable list of all topics (current and future) covered on the site.

This website was developed and is maintained by the National Center for Manufacturing Sciences. Funding for this project has been provided by EPA under the National Compliance Assistance Centers program. For more information, or to pass along suggestions, please contact Matthew Cooke, EPA Compliance Policy Staff.  The NCMS Sr. Program Manager is Lisa Stobierski.

How does needlessly bulky packaging create needless carbon emissions? See the TERC topic page on Freight Density, Carbon Footprint, and Fuel Cost and try out the Bulk Buster calculator.
EPA has launched a new section of their website that specifically addresses Hazardous Waste Generators. It provides basic information, links to forms, regulatory summaries/details, and sector-specific information.
Intermodal Topics Added. Intermodal transportation is fast becoming the method of choice for logisticians worldwide. A new drop down menu has been added to address regulatory requirements impacting cargo shipments transported via multiple (intermodal) modes of transportation. Two new tools have been developed related to intermodal transportation that should be of interest to all. See below:
Intermodal Choices and Greenhouse Gas Emissions – How do the carbon footprints of road, rail, water, and air transport compare? A new TERC page finds some answers that may surprise you. The page includes links to two downloadable spreadsheets – an intermodal emissions calculator, and a calculator that lets you determine when a change of cruising speed might boost fuel economy and lower emissions.

Compliance Summary Tools for Water and Rail. TERC Compliance Summary Tools provide customized compliance assistance reports based on your state location and type of operation. The Water and Rail Compliance Summary Tools were introduced in 2013 joining the Road Compliance Summary Tool completed earlier. The Air Compliance Summary Tool is expected to be launched in early 2014. Typical information includes permitting, reporting, recordkeeping

and other requirements pertaining to emissions control and waste disposal for both on-shore facilities and ships operating in US waters.

Alternative Fuels – State Regulations. A new tool is now available to help guide you through the most recent information on what states are doing to encourage the availability and use of alternative fuels. This easy-to-use tool contains information of particular interest to transportation, selected from an extensive database of state and local regulations and incentives managed by the Department of Energy. Starting with a summary table covering all 50 states (plus Federal rules and programs), you can scan the table for items of interest (with the aid of supplementary text boxes), select pages listing all of the items for each state, or link to the DoE database for more information. You can also find a page of comparison tables listing different states' approaches to selected topics.

If you have any comments on what is currently posted on the site or how it is posted, or if you would like to see additional topics covered here, please let us know.
George Cushnie, Technical Director, geoc@caiweb.com
TERC NEWS
11/09/2023 - EPA Grant to California Department of Health to Help Transition to Unleaded Aviation Gasoline in Disadvantaged Communities [more]

08/03/2023 - Biden-Harris Administration Announces Availability of $115 Million in Grants to Cut Harmful Diesel Engine Emissions -- Grant funding prioritized for areas already overburdened by air pollution [more]

08/03/2023 - EPA Cracks Down on Diesel Engine Defeat Devices - EPA established a National Enforcement Compliance Initiative (NECI) that focuses on stopping the manufacture, sale, and installation of defeat devices [more]

08/02/2023 - California Truck Parts Manufacturer Sinister Diesel Agrees to Pay $1 Million After Pleading Guilty to Conspiracy and for Manufacturing and Selling Illegal Defeat Devices [more]
Trucking companies earn distinction from EPA for efficiency.
On November 5, 2020 the U.S. Environmental Protection Agency (EPA) honored top-performers in the freight industry with its annual SmartWay Excellence Awards. Awardees are shippers, carriers and logistics providers that excel at saving fuel and shrinking their emissions footprints. For more information on the SmartWay Awards:
https://www.epa.gov/smartway/
smartway-excellence-awardees.
Supported by